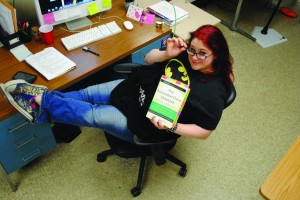 This is the first byline I've had in quite a long time and, ironically, it will be my last here at Youngstown State University.
Copy editors are kind of the unsung heroes of journalism. We make everything all neat and tidy and uniform to appease the grand council of the AP who decides how everyone will and will not be able to print news. Sometimes, we are also given the delicate task to breathe a little life, a little voice — your voices — into the stories we edit and restructure.
Despite never reporting a story myself at my professional time here at The Jambar, it was this field and this organization that reminded me of my own voice and that I was not only capable of using it, but that I was a much better journalist and a much stronger person when I did.
Mary Beth — When I first transferred here from a liberal arts school, I had no idea what I was doing. In the mass chaos of the initial advising process, you swooped in, scooped me up and told everyone else to back off. I couldn't be happier that you did. Something that I will never forget is being packed onto our layover flight to New Orleans and overhearing bits and pieces of the animated conversation you were having with the man seated next to you. By the end of the flight, I not only knew all of the best places to go in New Orleans, I knew this man had moved several times due to his job, that he was married with children and all of his opinions about the relationship between the media and law enforcement. Oh yeah, and that he was a fairly high-ranking federal agent — something only the flight attendants and captain had been informed of. It showed me that you don't always have to be so abrupt and so cut throat when trying to get the news. In most cases, when you're relatable and genuinely interested in what people have to say, they'll talk. And, also thanks to you, I know everything there is to know about Sunshine laws and FOIA just in case they don't. First amendment love!
Cassy Twoey — I first met you as the girl in my editing class who kept pestering me about making my workshop experience at The Jambar a full-time thing. And now, I don't know what would have become of me if you hadn't. We both knew going into fall semester that I'm more of a writer and more into the A&E and pop culture beat than I am a copy editor, but I took a shot. And despite all of the backhanded comments from grammar gurus and the great "cockgate" gaff, I wouldn't take it back. You've been a supportive team member, a strong boss and an amazing confident. I am not just leaving behind a job; I'm leaving behind one of the greatest friends I've ever had. I bequeath the copy team back to you, its rightful queen. I know as the next senior copy editor, you will carry on the great legacy of Emmalee Torisk.
Jordan — If ever I were to make a "burdened with glorious purpose" reference, it would be now. However, I think I'm at my Loki limit until at least 2015 so …. put simply, I remember first meeting you in Greenway's poetry class — though I guess I can't really say "meeting" considering we both didn't really talk much. Over the time you've been here, I've watched you blossom into the confident —often sassy — editing force we all know and love. You have the skill, the intelligence and the drive to truly rule the world if you wanted it. I have no idea what I am going to do without our story time sessions about fiction writing, grammar, superheroes, attractive British men and everything else under the sun. Probably explode. We both need to NaNoWriMo. Keep Liam in line. Frank, too. … Actually, just keep everybody in line. And do not be afraid to use your editing powers for the greater good — or chaotic evil. Chaotic evil is always good, too.
Amanda —"You left us."
Josh — … I may or may not have hidden several Oxford commas in this issue. Come to peace with it now. And sorry about no giant Batman cutout, but really, where are you going to put him when you're out there in the world comforting the afflicted and fervently afflicting the comfortable?
Amanda (for real) — Seriously? You really thought I was going to leave you with a one-liner? Spunky little Amanda: God have mercy on whatever poor soul angers you. And blessed are the people who have the privilege of calling you a loyal friend. You are an excellent writer and I know you will make a good columnist — I think you're funny, and that's all that really matters. I will make sure to occasionally photobomb you and spam you with girl talk and tiny owls — 5eva.
Gabby — You are adorable and probably the most genuine person I have ever met in my life. I am humbled to have known you, and I know you will restore the A&E page to its former glory in the Marissa McIntyre days of old. Blog. Blog your musical heart out.
Joe — Never stop being Joe. As two of the oldest reoccurring people here at The Jambar, I feel like we could be the most immature (admittedly, you a little more than me) and that's totally OK — though I was "Batgirl" for a full semester until I actually started to speak. Your narrative is some of the best I've read and your passion for what you do will take you far. I am expecting to see you on ESPN or doing something for Sports Illustrated.
Liam — I am going to miss conversing about the joys of literature and all things Celtic. I will also greatly miss your perfectly timed commentary and your 'Liamisms.' In the interest of making amends — and to prove that I do not destroy every piece of fine prose I touch — I will share some of my favorites so they will live on in this issue and bump up everyone's IQ at least a point or two. Asunder. Purview. Prodigious. Purportedly. Reproach. Ostensible. You will be a stupendous, impregnable journalistic force as editor-in-chief. Rule well.
Frank — "Franklin," even though you have no knowledge of Norse mythology, I forgive you. I don't know if you'll be a beloved teacher, a hard-hitting journalist or a take-no-crap politician that our government so desperately needs, but whatever you choose, you have a sense of charisma that will move people to action. I think The Boss himself can say it best. "You can go from doing something quite silly to something dead serious in the blink of an eye, and if you're making those connections with your audience, then they're going to go right along with it." – Bruce Springsteen.
Alyssa — I dub you the honor of being the new "Batgirl." Wear it well. You and Jordan will have to share your mutual love of Captain America and carry on that nerdy legacy I've left in that section of the office.
Jenna — Thank you for teaching me to enjoy my walks and to take a few moments to just pause and enjoy life. Rockin' that red hair!
To anyone else I may have left out and to all of you left who have yet to graduate (and some who already have), thank you for making the basement of Fedor Hall not only a cohesive newsroom, but a place I was actually excited to work at and for.
Thank you for letting me be a part of your Jamily.