By Caitlin Sheridan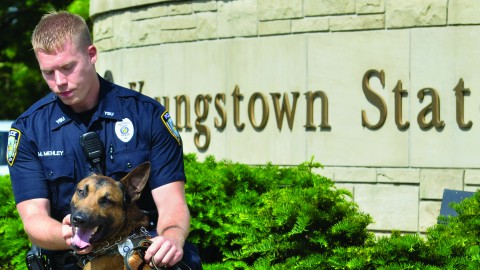 Gino, a two-year-old Malinois bomb dog at Youngstown State University, has been called to protect and serve the Youngstown community four times since December 2014.
The locations include the Campbell high school, the Niles' Target store, Columbiana local schools and Youngstown East High School.
Gino was called out twice in December, once in January and once in February to investigate bomb threats in the Youngstown-Warren area. No explosive devices were found at any of the locations.
YSU received Gino after his initial training was completed in June 2014 as part of a partnership with the Ohio Homeland Security, a division of the Ohio Department of Public Safety.
A multi-year grant given by the division placed other explosive detection assets like Gino in public universities across Ohio due to their strategic positions in metropolitan and well-populated areas.
Dustyn Fox, spokesman for the Ohio Homeland Security division, spoke to the advantages of having a bomb dog like Gino on campus.
"Gino and the other canines are valuable resources to each university because their unique skill can save lives by verifying the validity of an explosive threat," Fox said. "Ohio Homeland Security is very happy to partner with these state universities to help protect each university, their surrounding communities and ultimately to provide a safer Ohio."
Gino has been trained extensively in the detection of explosive devices — including an initial training period of 10 weeks; Gino can identify explosives and clear an area in less than half the time of a human. The purchase, training and equipment for each dog were under $13,000.
Gino and Mark Mehley, the K-9 Officer and Gino's handler, are required to respond to explosive threats in the Tri-County area and beyond.
"Gino's skills are utilized by not only the YSU community, but the whole community if a threat of explosive devices are reported," Bryan Remias, a Lieutenant in the YSUPD who has worked with Gino since his arrival, said.
YSUPD's ability to respond to crises extended beyond campus is due to mutual aid agreements. John Beshara, chief of YSUPD, said these agreements allow fellow emergency services to access the resources of other police departments outside of their area.
Specifically YSU has signed on to a mutual aid agreement between public universities and the state, so Gino can technically be utilized throughout Ohio.
"In Mahoning County, I can tell you that all the law enforcement agencies have signed on to help each other in that time of need if they need it. As far as mutual aid for the universities, there is a mutual aid agreement that is signed with the state that allows for those, we call them assets, to respond to different areas," Beshara said. "So if an incident occurs — depending on the incident, depending on the size, depending on many many factors — assets can roll in. The location would be a very primary factor, where, obviously, if it were Kent State, we are only half an hour away."
Though Gino is currently the only Explosive Detection K-9 unit in the Tri-County area, other universities throughout Ohio region will provide their K-9 units to the region if necessary.
"I think it is a very effective way to get the most use out of that type of an asset," Beshara said. "It is very well thought out in my opinion."